Transportation
Capital Metro Bus - The schedules can be confusing, but the
trip planner
feature on the website helps. Single rides are $1, day passes are $2.
Walk - Check out the
map page
for the dozens of restaurants, food trucks, and entertainment venues within a mile or two of the hotel.
Food
Breakfast Tacos
Food Trucks
Diners & Other Restaurants
Magnolia Cafe is 1.2 miles away, is open 24/7 and has tons of cheap, delicious foods. Amazing and enormous gingerbread pancakes are $4.50 for a short stack and I bet you can't eat more than two.
Home Slice Pizza is 0.8 miles away and you can get a slice for about $3.
Entertainment
The Capitol is 1.2 miles away, has beautiful grounds, and a fun and free tour of the building.
Barton Springs is 1.6 miles away, and is a stunning and enormous spring-fed pool. Pay $3 to get in to the main pool, or walk through the playground and down the stone staircase to get to the free side. The hillside theatre next to the pool has free shows after the sun goes down.
Bat Viewing is 0.2 miles away on the Ann Richards Bridge. Get there at dusk to watch 1.5 million bats fly out for their nightly hunt.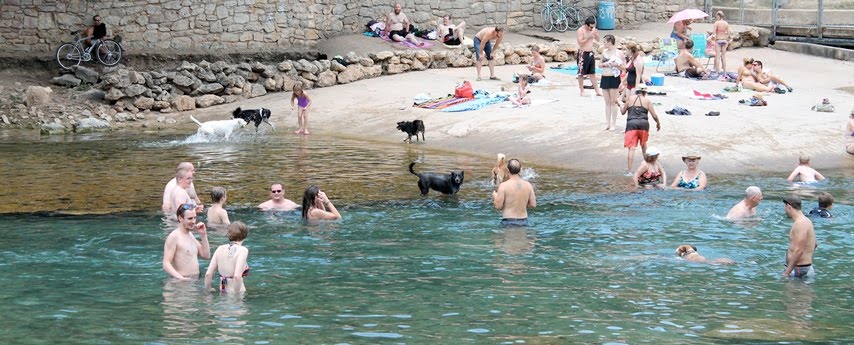 The free section of Barton Springs. It's also a dog park!