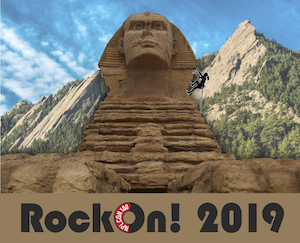 RockOn!
2019 Convention: Boulder, Colorado
organized by Kryptogram
Date: July 11-14, 2019

Pre-con picnic: Wednesday, July 10
5:30-7:30 in the Foyer of the Pearl Street Ballroom, Embassy Suites

RockOn! will be held at the Embassy Suites by Hilton Boulder (2601 Canyon Blvd, Boulder, CO 80302). The Embassy Suites is linked by a courtyard to the Hilton Garden Inn (2701 Canyon Boulevard, Boulder, CO 80302). More information on rooms, including links to make your reservation, are below.


Panorama view of the courtyard between the hotels. Click image to see it larger. Photo by Kryptogram.

Some of our convention meeting space will be in the Hilton Garden Inn. We may book in either hotel. The hotels each have 4 floors with rooms and have about a 50/50 mix of King and 2 Queen rooms. There will be no dog in the lobby (he was demoted) and they can provide hypoallergenic rooms.
About the Location
Both hotels are brand new and opened last fall — some online satellite maps will show a hole in the ground. The hotels operate in true Boulder fashion with an art walk and weekly yoga gatherings. The hotel includes a gallery featuring 1500 works of local art. The bar and restaurant areas will be great areas for congregating and solving, as will the open-air plaza. The hotels are about 3/4 of a mile East of downtown.
Boulder has so many entertaining things to do in the summer.
Ongoing events:
Boulder Farmer's Market Wednedays and Saturdays- has fresh food, sure, but also live entertainment, a beer corral and cooked to order foods
ETown - attend a live taping of an eTown broadcast
Breweries and Restaurants
Outdoor Activities - fishing, innertubing, bike riding, hiking, rock climbing, paragliding
Numerous parks await exploration, in Boulder proper and the greater Boulder area
Bands on the Bricks - live acts 6-9pm on the Pearl Street Mall
Visit the Boulder Downtown web site for an events calendar and some great maps showing everything downtown Boulder has to offer.
Things to See:
Boulder-Dushanbe Tea House - don't miss this, it's beautiful!
Pearl Street Mall - buskers, restaurants and bars
Boulder Museum of Contemporary Art
Boulder History Museum
Things to Do:
Banjo Billy's Bus Tour - a 90 minute history tour of our interesting town or you can book its funky school bus for a private brewery tour
Happy hour on a rooftop deck with fabulous Flatirons views
Bike ride or stroll on Boulder's Creek Path
Arboretum on CU campus
Trying to decide whether to bring the family and extend your week? You should definitely bring them along! You can visit the greater Boulder area, including Red Rocks Ampitheater (the most beautiful concert venue in the world) and Rocky Mountain National Park, an hour drive away. Boulder is only 2 hours from: Colorado Springs, Breckenridge, Colorado's Renaissance Festival and Cheyenne, Wyoming. In a half hour you can drive from Boulder to Nederland and gain about 5,000 feet in altitude for a cool afternoon on a hot summer day. 15 minutes from Nederland is Brainerd Lake, which lies at 10,000 feet above sea level but has very easy access. This is a good place to go look for moose. I'm not going to insult your intelligence and tell you that there are infinite things to do, but really, you could live a lifetime here and not see all of Colorado.
Logistics
The Denver International Airport (DEN for flights, DIA for bus routes) is approximately 40 minutes from Boulder by car and an hour by bus or other airport transportation.
Uber and Lyft run around $45 each way, and there is a $10.50 RTD bus that drops you right downtown. The Green Ride shuttle is an intermediate option. For more information on getting into Boulder, check the Arrival section of the con info page.
Nothing in Boulder is more than about 15 minutes from anything else. If you want to rent a car in Boulder there is Boulder Carshare, Enterprise here in town. The hotel parking rate is $18/day for self parking and $23/day for valet parking.
Denver has major carriers and low cost carriers. Some of the low cost carriers at Denver International include Southwest, Frontier, Spirit and JetBlue.
We have arranged for a discount rate from United Airlines, which has a hub in Denver. Click HERE to start and enter the code: ZFP8262956. The code will show special rates for our Krewe, but note that sale fares may be cheaper in some cases.
Hotel Reservations
The deadline for convention rates on hotel rooms has passed.
The Embassy Suites features 2-room suites for $229/night, including a cooked-to-order breakfast (6-9AM Monday-Friday; 7-10:30AM Weekends), plus a nightly evening reception with complimentary alcohol and snacks. Click HERE to reserve a room at the Embassy Suites.
The Hilton Garden Inn has regular rooms for $199/night, with no breakfast or reception included. Click HERE to reserve a room at the Hilton Garden Inn.
The Hilton reservation system will default to the full date block for which our discount rates apply, Sunday, July 7th to Wednesday, July 17th. Update it to whatever dates you actually want before completing your reservation.
There is no penalty for cancellation up to 48 hours ahead, so book now!
This rate expires June 18, 2019. Mark your calendar! If you miss this date, you can expect an increase of at least $70/night on the rate. Book early and cancel if you can't make the convention rather than booking late.
NOTE: The two hotel reservation sites are actually the same site and may get confused if you open browser tabs or windows for both at the same time. If you want to look at reservations for both hotels, it is recommended that you only have one site open at a time. (This problem only occurs with the reservation sites, not the hotel information sites.)
If you need information not covered by the FAQ, please contact kryptogram@puzzlers.org.
For web site issues, please contact webmaster.