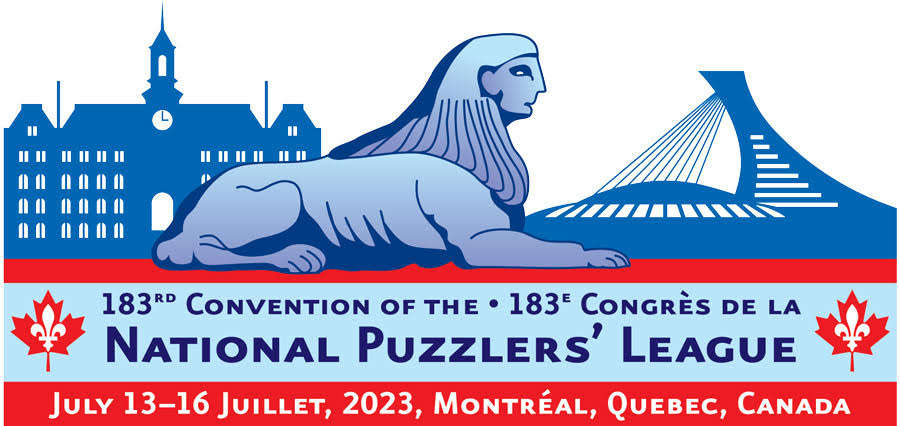 Organized by Noam
Con Registration
The 183rd National Puzzlers' League Convention in Montréal, Quebec, Canada will take place from July 13–16, 2023 at the Hôtel Bonaventure Montréal (900 Rue de la Gauchetière Ouest), ideally located at the nexus of downtown and the western boundary of the Old City, with convenient access to the Métro and Underground City.
The convention fee is US$250, which includes two dinners, Saturday brunch, Sunday breakfast, and a Wednesday afternoon traditional Quebecois happy hour (cinq-à-sept) on the hotel's grounds, as well as all other convention-related expenses.
Go here to register. The registration deadline is June 30th (extended from June 19th).
Many krewe share their travel plans, including requests for hotel roommates, on the Attendance Notes page. There is no official support for matching up people to share hotel rooms, but people sometimes find roommates via this page, the npl-folk mailing list, and the NPL group on Facebook.
Please sign in for more information
Convention Drop-in Policy
Locals can "drop-in" for a single session Thursday or Friday night without paying and we encourage local puzzlers considering membership to do so. Thursday and Friday night sessions start at 8PM. If you like what you see at the session, it may be possible for a local person to join the League and pay the con fee during con, in order to attend the rest of con. If you are interested, contact the con host, Noam.
Code of Conduct
The organizers of this convention are committed to preserving a welcoming and respectful environment for anyone who wishes to participate. We do not tolerate harassment of convention-goers or League members in any form. If you feel that any individual is speaking or acting inappropriately, either toward you or to someone else, please contact a member of the Code of Conduct Committee to mediate or intercede, as necessary. Read the full Code of Conduct here. Read how to report an incident here.